A Useful Saying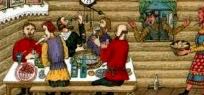 Do you have a useful saying, that you heard first years ago, that keeps coming back to help emphasize an important, though perhaps commonplace piece of wisdom?

I was once told that there is an old Russian proverb:

"The last person to come into the room smells the smell"!

In those days I was a trainee psychiatrist. The training scheme involved rotating through several posts to cover the syllabus. Each new rotation involved joining a new team or service that was usually well established. On one of those occasions I was invited after the first day to share with my new colleagues my first impressions, and was encouraged to be candid. After all, I was told, there is an old Russian saying....

This website came about as a way of making our out-of-print 1996 book "Atopic Skin Disease - A Manual for Practitioners" more widely available as an Ebook, while at the same time refreshing it with new content and a new format. The planning and design of the site started about 12 months ago, and the site was launched at the end of August, 2011.

Since then, beavering away adding content week by week, it has been important to bear in mind another saying: "Sometimes it can be difficult to see the wood for the trees".

A membership website needs an active membership for success. Newcomers to a group discussion can often remain silent to begin with, but it is the newcomer who can often make the most important contribution. Gradually the early membership of atopicskindisease.com have been adding their accounts, comments and suggestions, and as a consequence the venture seems now even more worthwhile than first envisaged.


So, if you are a visitor, or a member, and you read something here on which you would like to comment on, please do not hesitate to do so below.