Share this page?
Cookie Policy
Visiting this site
involves cookies!
To find out more please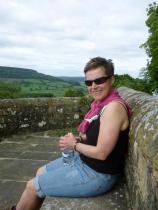 About Adelle S-F
Additional Information About Yourself
I have had eczema since birth. I have been in hospital a number of times as a child when for the most part it was severe. As an adult I continued to have eczema which was severe at times and less so at others but mostly always there, impacting my life fairly significantly on an on-goinng basis.
My skin worsened significantly however in conjunction with a very stressful job and in May of thsi year (2014) i became acutely ill with erythrodermic eczma or exfoliative dermatitis. I really thought i was going to die and was told i was too ill to be admitted to hospital. I am now on azathioprine and have been using the Combined Approach since July with DrB. I have just left my job and am enjoying some "me time", and ensuring my skin is fully stable before i start working again.
Tell Us How You Like This Site
Great site - full of great resources