Share this page?
Cookie Policy
Visiting this site
involves cookies!
To find out more please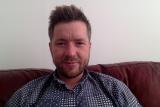 About Pe Dro
Additional Information About Yourself
I have had atopic eczema since childhood which has persisted into my adult life. I have been admitted to hospital on several occasions due to the exacerbation of my skin, and I continue to be in a cycle of topical steroids to keep things under control.



Tell Us How You Like This Site
I like this site as it has some useful tips on eczema management