News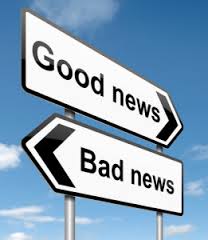 News is important.
We say "No news is good news", but bad news can be important to report, in order that matters can then be improved.

The end of the year is especially associated with news. For some it is good news. "Good Tidings". Christians celebrate the news of the birth of Christ.

It is the time "round-robin" newsletters some send to friends and family. They seem to come in two forms. There are those that are full of successes and celebrations, and then there are those that seem to focus on trials and tribulations. Both are important. And sometimes news falls between these two extremes.

The significance of bad news is important when it comes to medical matters. Yes, it's good to read good news about the successful treatment of eczema - how helpful "The Eczema Solution" by Sue Armstrong-Brown has proved for some, for example. Read Katie's story elsewhere on this site. But arguably it is even more important to read reports of severe and distressing experiences, multiple referrals and serial disappointments that can be the experience of living with atopic eczema. See for example an eloquent piece in the A Patient's Journey series, in the British Medical Journal. It gives chapter and verse of the difficulties that can occur with adult atopic eczema. It reminded me of a similar harrowing account published a few years ago in a series called Making The Rounds - which included reference to the use of physical restraint to stop the scratching associated with childhood eczema, a practice that is mentioned elsewhere here by Dr Peter Norén.

The bad news is that atopic eczema can be a chronic debilitating condition that continues to cause people and families untold unhappiness. It can be difficult to treat, and not all treatments suit everyone. Fortunately for some the effectiveness of The Combined Approach - optimising topical treatment and adding habit reversal to treat habitual scratching - is now some good news: for them there is the possibility to Live Without Eczema.

Happy Holidays!